Your HVAC company should have an online store.
Over 80% of U.S. consumers shop online. Every other industry sells their products and services online. Why don't you?

Big players like Google and Amazon are moving in, offering home services and taking a cut of your profits. Your customers go online to buy their furnace filters. If you don't respond, your company will lose out.

Contractor Commerce is here to help you take control.

Imagine serving your customers in a modern way...by selling furnace filters, maintenance agreements, and even fully-installed HVAC systems in your own online store. Imagine when you become the "tech-savvy" contractor and start taking all the customers.

Get ahead of the competition. Get more customers. Get your own online store.

With Contractor Commerce, you can offer this service today.
Contractor Commerce adds the store to your website - free of charge.
We help you customize it based on your company's needs.
Consumers can buy products and services from your online store.
Filters, maintenance agreements, and even HVAC systems.
Contractor Commerce handles everything.
Shipping, payment, tracking, confirmation emails and more.
Join The Companies Who Love Contractor Commerce.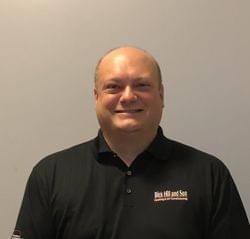 The usability and appearance of my new online store exceeded my expectations! The ordering process is very intuitive for my customers and there is a great variety of products. On top of that, the Contractor Commerce team has been easy to work with and has even customized a few things to fit the needs of my business! — Chris Hill, President, Dick Hill and Sons Heating and Cooling
We were looking for a program to help us sell products and services on our website. Contractor Commerce makes it possible and we don't have to handle any of the actual products ourselves. It's really easy to set up. I had an online store and was selling products within 48 hours of talking to these guys. — Jeff Kline, Ductworks Heating & Air Conditioning

We were a little hesitant prior to signing up for Contractor Commerce due to it being something new for us - an online store. We were thinking of the additional overhead resources and burdens it could create to stay on top of it. After several phone calls and discussions we went ahead and gave it a shot. There were a few setup components that were simple and seamless. It has been 4 months, and we have to do "NOTHING" except review the account activity from time to time. I receive an email with every transaction.

The program has paid for itself month after month and continues to grow. We have several subscription customers already. This just means recurring revenue for us with no additional overhead or managing. I would recommend signing up if you are looking for additional revenue that you don't have to manage. The program is simple to promote from within the office and for the technicians out in the field. We are looking forward to the growth of the program. — Jason Chapman, Advent Air Conditioning